Dr. Alan D. Wolfelt Community Seminar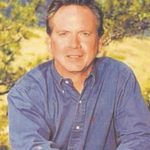 We look forward to having you join us for this evening of hope and healing. Come learn important principles for helping yourself, your family, and your friends. This practical, heart-based program will assist you as you mourn the death of someone in your life and demonstrate how to be of support to family members and friends.
The capacity to love requires the need to mourn when someone you love dies. Don't miss this opportunity to spend an evening with one of North America's leading grief counselors and authors. Dr. Wolfelt can and will help you feel support in your grief.
This compassionate program will be helpful to anyone who is experiencing grief in their lives. If you know anyone who may benefit from this opportunity to embrace hope and healing, please let them know about this program. We look forward to having you with us.
Dr. Alan Wolfelt is a noted author, educator, and grief counselor. He is an international speaker and we are honored to give the community the opportunity to attend this valuable session.
Seating is limited, please register now.
Location: Gwinnett Medical Center Resource Center, 665 Duluth Highway, Lawrenceville GA 30046
FREE Community Seminar
October 12
7:00-9:00pm
Are you a professional caregiver? Learn about our CEU event.
October 13
9:00am – 3:30pm