Wages & Sons Funeral Homes & Crematories is one of 155 funeral homes nationwide to receive the prestigious National Funeral Directors Association's (NFDA) annual Pursuit of Excellence Award, NFDA announced last week. The award is presented by NFDA to firms that have demonstrated a commitment to superior funeral service through adherence to the highest form of ethical and professional service to families and communities.
"This award represents the outstanding service we provide to families," said Jeffrey Wages, President of Wages & Sons. "I am proud of our staff and I appreciate this recognition for our efforts."
The 2015 Pursuit of Excellence Award will be presented at NFDA's International Convention and Expo's All-Star Recognition Ceremony on Monday, October 19 at 4:15 p.m. in the Indiana Convention Center in Indianapolis, IN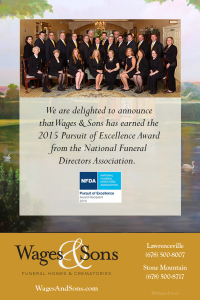 About National Funeral Directors Association
The National Funeral Directors Association is the world's leading funeral service member group dedicated to education, information, and advocacy for the funeral service industry, serving over 19,700 individual members and 10,000 funeral homes worldwide. NFDA is dedicated to supporting members in their mission to provide families with meaningful end-of-life services at the highest levels of excellence and integrity. For more information, visit https://nfda.org/.