Share in fellowship with us this holiday season as we honor and remember our loved ones in our Candlelight Remembrance Tribute Video.
A Letter To The Families In Our Communities,
We are so pleased that you have joined us and that we can share in this special time of remembering and honoring the life of the person you knew and loved. While it was a difficult decision not to hold our annual Candlelight Remembrance Tribute in person this year, we feel that the safety and wellbeing of all those who participate in the ceremony as well as the family and friends who attend are of the utmost importance at this time. By providing a virtual video this year we can still honor loved ones while caring for our community.
We are truly disappointed that we cannot share in person this occasion of reflection and healing with those who have recently lost a loved one and those who consider it a cherished part of their holiday tradition. However, though it may look and feel quite different this year, it is our hope that we will unite our hearts and community through this digital version of our Candlelight Remembrance Tribute.
Our family and staff understand the importance of this ceremony to you and your family. Healing and comfort come through the moments we take to remember and honor a life well lived. We hope this tribute allows you that opportunity as we have designed it with you and your loved one in mind.
As this time of year can be full of hurried and busy moments, you may want to consider viewing this video in a place that provides an atmosphere where you can grieve, celebrate and remember your loved one in the way that helps give you peace and comfort.
From our family to yours, we wish you a peaceful holiday season and we thank you for your continued trust and faith.
 – The Wages Family
Receive Our FREE Personal Record Guide
Receive Our FREE Personal Record Guide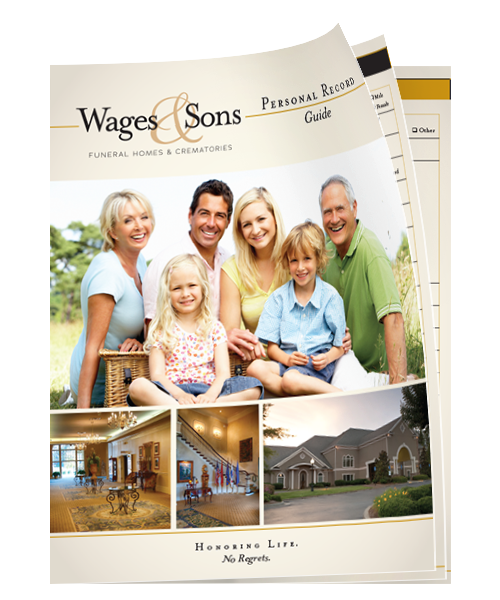 Planning your funeral arrangements in advance can offer you and your family a number of benefits.