Our main focus at Wages & Sons Funeral Homes and Crematories is to ease the process of decision making with reliable guidance and gentle counsel, giving you the necessary time to grieve. You will have peace of mind, knowing that every detail is handled with care and compassion.
Here are some of the reasons more families choose us:
On-site Services – We do not outsource any of the services we provide and our cremation facilities are under the same roof.
Diversity – Knowledgeable and educated as to the diverse local customs, religious beliefs, protocols, and rituals within our community.
Beautiful Facilities – Thoughtfully designed and able to accommodate large gatherings or provide space for a more intimate setting. Lawrenceville and Stone Mountain
Full-Service – We take care of you in your time of need from beginning, all the way to aftercare with our on-staff grief specialist.
Expert Staff – Over 160 years of combined funeral directing experience.
Specialized Services – Including out-of-town and international transfers.
Advance Planning – Providing you and your family with peace of mind and flexible payment options.
Family Owned and Operated – The entire Wages family is honored to have a long history of service to families in the community.  Learn more about us or meet our staff.
We promise to listen to your needs and partner with you to create a service of remembrance that honors your loved one's life. We will strive to provide the absolute best facilities and personal attention you and your family deserve. Our staff is licensed, caring, and professional. You will be treated with respect and kindness and your wishes will be honored. We promise that you will be proud of the tribute you have created for your loved one and will be left with a sense of peace and no regrets.
Receive Our FREE Personal Record Guide
Receive Our FREE Personal Record Guide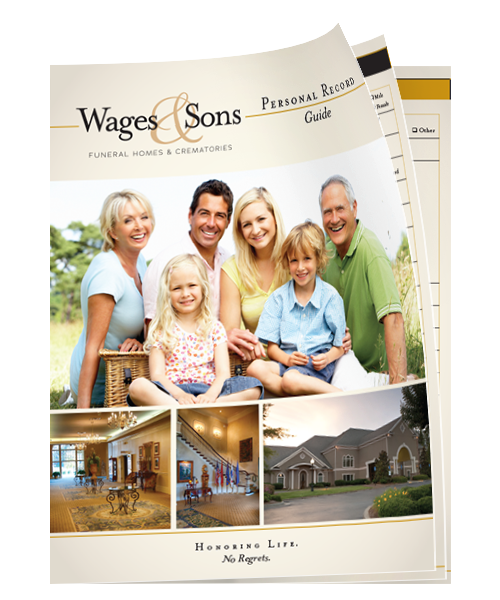 Planning your funeral arrangements in advance can offer you and your family a number of benefits.