Thank you for registering!
You have been sent the conference space login information via email. If you have not received the login information, please be sure to check your SPAM folder.
Wages and Sons Funeral Homes offer 8 week grief support sessions to anyone in the community.  These sessions are typically offered in January, April, and September in the Lawrenceville area and other nearby cities.
Wages & Sons Grief Support Services Are Provided At No Cost
Other Resources
The following grief counseling and support groups are available in our region. These organizations offer help to people who have experienced loss through death. Your funeral director can offer additional information at your request.
Duluth First United Methodist Church
3208 Highway 120
Duluth, GA 30136
770-476-3776
Contact: Tracy Brinker
2nd Monday of every month –  7:00 p.m. to 8:30 p.m.


Perinatal Bereavement & Palliative Care Program
H.E.A.R.T.strings (loss of unborn or newborn baby)
Northside Hospital
1000 Johnson Ferry Rd. N.E.
Atlanta, GA  30342
Contact:  404-851-8177 for various programs
www.northsidepnl.com
Survivors of Suicide
www.survivorsofsuicide.com
The Listening Ear LLC
343 Salem Gate Drive SE, Suite 101
Conyers, GA 30013 ,770-929-1470
Paula Christian-Stallworth, LPC
2nd Thursday of every month at 6:30 p.m.
Perinatal Loss Support Group
Gwinnett Medical Center Resource Center
665 Duluth Highway
Lawrenceville, GA 30046
678-312-4786
Contact: Tonya Lowry
3rd Tuesday of every month, 6:30 p.m. – 8:30 p.m.
Adults and Children (12 yrs. and older) Support Groups
The Compassionate Friends of Atlanta (parents/siblings who have lost a child at any age)
www.tcfatlanta.com
Trinity Christian Fellowship Church
1985 Old Fountain Road, Bldg. 100
Lawrenceville, GA 30043
Contact:  June Cooper – 770-757-4927 or Patty Key – 770-833-9967
3rd Thursday of the month at 7:30PM
AND
First Christian Church
4532 LaVista Rd.
Tucker, GA 30084
Contact: Maureen Beamer – 404-271-3066
2nd Tuesday of the month at 7:30 p.m.
Children and Teens (5 – 18 yrs. old) Support Groups
Kate's Club
1190 West Druid Hills Drive NE
Suite T80
Atlanta, GA 30329
Contact: Liz Carson, Program & Outreach Coordinator – 404-347-7619
Receive Our FREE Personal Record Guide
Receive Our FREE Personal Record Guide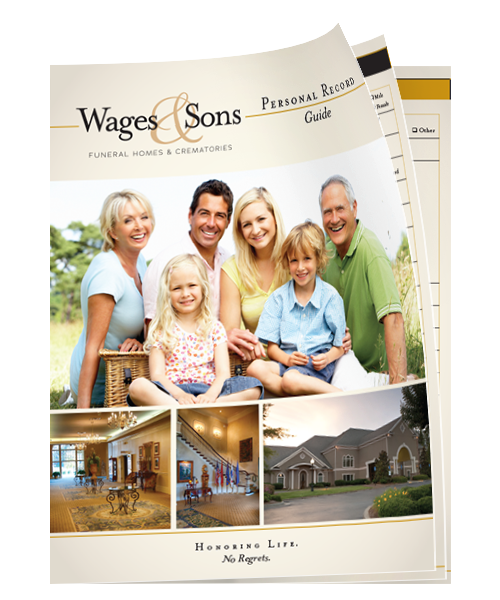 Planning your funeral arrangements in advance can offer you and your family a number of benefits.