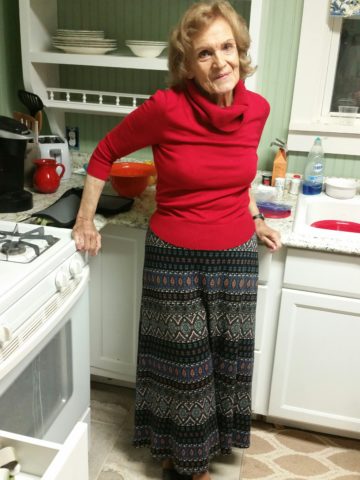 Born in Pasaic, NJ on February 11, 1941
Departed on May 21, 2018 and resided in Stone Mountain, GA
Click on the links above for maps and directions. View current weather.
Virginia (Gini) Annette deRussy Eagen, age 77 of Stone Mountain, Georgia, died Monday, May 21st, 2018 at home surrounded by her family. Born in Pasaic, NJ on February 11, 1941, she was the daughter of Rene and Reva deRussy. Her father, Rene, was a Dairy Chemist and Mother, Reva, taught Kindergarten and Elementary Education. Gini was the youngest of three children – Byron (deceased) and her sister Louise Schult.
Gini married her High School sweetheart from the neighboring town of Hackensack on June 17th, 1961 at Corpus Christi Church in Hasbrouck Heights, NJ. She and Dennis raised 4 children: David Michael (deceased), Jeffrey Thomas, Lisa Ellen, and Daniel Scott. Other survivors include Tim Miller, husband of Lisa; 9 Grand Children, Leah and husband Chad Crane, Sarah and husband Cory Michaels, David, Daniel and wife Alyssa Miller, Joshua, Mercedes, Samantha, Emily and Zachary as well as 4 great grandchildren; Andie, Mia, Eagen and Carson. "She adored them and was a constant in each of their lives. When life's challenges and the complexities of life entered in, she was always there to support them and love them uniquely."
Gini's dream of a Universal Church came to life in the people she worked with and served while at Corpus Christi Catholic Church in Stone Mountain, where she worked as a Pastoral Assistant for 30 years when she retired in May of 2016. She said it was in the faces of the people that she served that she truly experienced Jesus. She was the essence of the Biblical Works of Mercy: feed the hungry, cloth the naked, visit the prisoners and minister to the sick, and did so until she took her last breath. She was fearless in her works of compassion, armored in her cloak of faith and resolve.
Her husband and life-long partner, Dennis, supported her in her ministries despite the long, irregular hours and unfamiliar places they often took her. Dennis died in August, 2005 of liver cancer.
Still mourning the loss of her husband, she turned her attention and energy to a major project: helping the former Lost Boys of Sudan return to their country after peace was declared in 2005 so that they could find the families they'd been separated from for 14 years. Later that year, she agreed to join them on the trip, and at age 64 traveled to South Sudan, overcoming many obstacles to be with them in sometimes volatile situations. In addition, Gini helped start a non-profit organization that builds water wells in the area of South Sudan called Wells for Hope, Inc.
Her work has taken her to the deserts of South Sudan, to El Salvador to visit family of a befriended death row inmate, to the slums of Jamaica with Father Jo Lung and Missionaries of the Poor on many occasions, to name only a few. She has been honored by the Archbishop of Atlanta by appointment as Spiritual Advisor to the St. Vincent de Paul Society Atlanta Council. In 2016 she was awarded the 11 Who Care Community Service Award by 11Alive. This award honored her work for Wells for Hope, Inc. in providing clean water to villages in South Sudan.
In closing, an excerpt from a dear book that was shared with generations of Gini's children, grandchildren and great grandchildren from the book the Velveteen Rabbit one of her favorites. It answers the question about what it means to be'real'. To all who knew her and loved her, there is no question...she was not afraid to give it all in His name, to be the servant and friend she felt she was meant to be. She was, and will always be the most real person most of us have known and will forever remember her that way…
"What is REAL?" asked the Rabbit one day, when they were lying side by side near the nursery fender, before Nana came to tidy the room. "Does it mean having things that buzz inside you and a stick-out handle?"
"Real isn't how you are made," said the Skin Horse. "It's a thing that happens to you. When a child loves you for a long, long time, not just to play with, but REALLY loves you, then you become Real."
"Does it hurt?" asked the Rabbit.
"Sometimes," said the Skin Horse, for he was always truthful. "When you are Real you don't mind being hurt."
"Does it happen all at once, like being wound up," he asked, "or bit by bit?"
"It doesn't happen all at once," said the Skin Horse. "You become. It takes a long time. That's why it doesn't happen often to people who break easily, or have sharp edges, or who have to be carefully kept. Generally, by the time you are Real, most of your hair has been loved off, and your eyes drop out and you get loose in the joints and very shabby. But these things don't matter at all, because once you are Real you can't be ugly, except to people who don't understand."
Funeral Mass will be held on Wednesday, May 30, 2018 at 11:00 a.m. at Corpus Christi Catholic Church, 600 Mountain View Drive, Stone Mountain, GA 30083. The family will receive friends on Tuesday evening at Wages & Sons Funeral Home at 1040 Main Street Stone Mountain, GA from 6:00 p.m. to 8:00 p.m. In Lieu of flowers, Gini's wish was that donations be made to:
Wells for Hope, Inc. at www.wellsforhope.org or, checks can be made payable to Corpus Christi St. Vincent de Paul Society and mailed to 600 Mountain View Drive, Stone Mountain GA 30083.