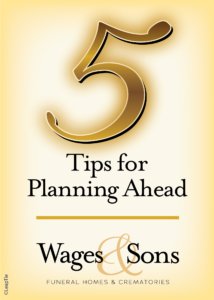 Planning for yourself or a loved one is easier than you think.  These helpful tips will make you feel more prepared when you decide to take the first steps.
1) Make your decisions in advance. If you have not made any decisions, your family will be left guessing what you would have wanted and be forced into crisis mode.  They may even make choices you would not have wanted.  Learn more about planning ahead.
2) Select a funeral home with solid connections to the community.  Surprisingly, many firms in our area are owned by large corporate chains or by out of state individuals who don't even live in the community. Wages and Sons is owned by Jeffrey & Susan Wages, who are lifelong residents of the community they serve. Learn more about the Wages Family.
3) Visit the funeral home. Many local funeral homes may not have everything your family may require from technology to adequate space for your gathering.  Some funeral homes do not even own a crematory.  Our facilities will accommodate services of any size or type and we have on-site crematories at each of our locations. Learn more about our building and tour the facilities.
4) Make sure the funeral home will get it right. Some facilities may not be able to honor your culture, religion or service requests. Our expert staff is familiar with many faiths, traditions, and cultures. You have a right to plan a service that is tailored to serve the needs of your family and heritage. Everyone is welcome at Wages and Sons.
5) Choose a provider who will support you through your time of need and beyond. Some companies are really only interested in fulfilling as many contracts as possible. At Wages and Sons, we believe you are becoming a part of our family and extend to you the support you need in the months and years ahead with personal grief experts and annual events for families.  Call to talk with Dr. Holly & Barb Kennedy our Grief Counselors who are always here for those who need them.
Planning today ensures your loved ones you have a sense of peace and your loved ones are left with no regrets. Call now to talk with us 770-277-4550.