Thanksgiving is traditionally a family holiday when loved ones gather from far and near to count their blessings and spend quality time together. For someone who has suffered a loss, though, this holiday can feel very different. When you're grieving, it can be hard to get into the holiday spirit, and even worse if you worry about living up to others' expectations for your behavior. If you've suffered a loss, make it easy on yourself, by being proactive about your Thanksgiving.
Keep it simple. This may not be the year for a Norman Rockwell Thanksgiving, and that's fine. We all have an image of the "perfect" Thanksgiving celebration, but when you're grieving, perfection should not be the goal. A simple meal, shared with people you love, may be the perfect salve for your tender spirit.
Allow yourself to honor the memory of your loved one. Sometimes, we try not to think about the person we've lost, but that can make the ache even worse. Don't resist the memory of the person you love, but honor it by talking about favorite memories you shared. Especially if you're celebrating Thanksgiving with others who loved that person, this can be a wonderful way to lessen your shared grief. You might remember your loved one in a prayer before a meal, light a candle in his honor, or set an extra place at the table. Whatever feels comfortable for you, that's a good way to honor the memory of the person who has died.
Create new traditions. Maybe you've always entertained a huge crowd at Thanksgiving each year, and now that feels uncomfortable and wrong. Maybe there are traditions that you're dreading because they'll be too painful after your loss. This is the perfect time to create new traditions. It's important to remember that life always changes and that you can allow yourself some fluidity in the way you celebrate important dates.
Know your limitations. Don't push yourself to do more than you're able to handle. If you're normally the one who hosts, this may be the year to let someone else do it. Even if you're not hosting, have an escape plan in mind, so that you can leave if it all becomes too much. It's ok to cancel or abbreviate your Thanksgiving celebrations if that's what you need to do to take care of yourself.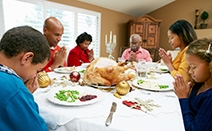 If you've suffered a loss, we want to help you find your path to peace. At our funeral home, we have a compassionate and caring staff, well-equipped to help you as you learn to cope with your loss. Whether you need suggestions for reading material that may help, or you'd like to know about community events and classes that deal with grief, we can point you in the right direction to get the help you need. Visit our website, call or stop by, to learn more about all we have to offer. And from all of us, we want to wish you a blessed Thanksgiving.