Anthony Dilano Beedles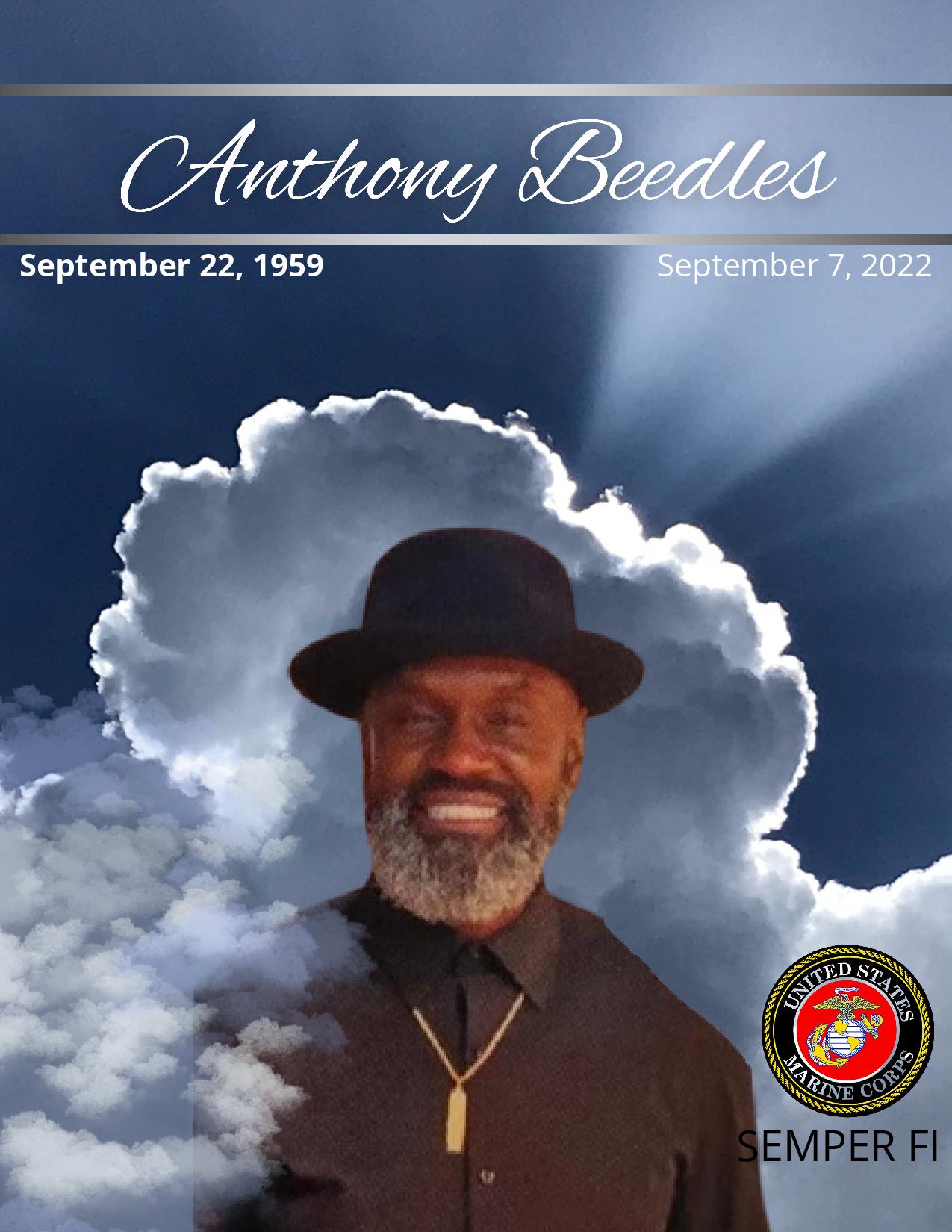 September 22, 1959 ~ September 7, 2022
Born in: Neelyville, MO
Resided in: Stone Mountain, GA
Anthony Dilano Beedles, 62 of Stone Mountain, GA, passed away on September 7, 2022.
Anthony was born in Neelyville, MO to W.M. Fields and Glory Dean Watkins on September 22, 1959. He started his travels at an early age where he graduated from Ithaca High School in 1978. After graduating he kickstarted his career and enlisted in the United States Marines Corps on December 9, 1980. Anthony served in the military for 12 years and during that time he married Cheryl Haynes and had three wonderful children.
While serving his country, he was heavily decorated and awarded, with commendations such as; Good Conduct Medal, Secretary of the Navy Letter/Certificate of Commendation, Letter of Appreciation, Overseas Ribbon Meritorious Mast, Meritorious Unit Commendation, Expert Pistol Badge, Sea Service Deployment Ribbon, National Defense Service Medal, and the Expert Rifle Badge. After a stellar military career, he was honorably discharged in 1992. His career as a Postal Clerk with the United States Postal Service began in January of 1994. Anthony was a diligent and respected part of his postal team for 26 years until he retired in April of 2020.
After retirement, he dedicated many hours to planting and maintaining a beautiful garden full of vegetables that he shared freely with his family and neighbors. He also enjoyed fishing, bowling, chess, dominos, and devouring books. One of his proud moments was the renovation of his beloved home. He was also the "go-to guy" for others that had homes needing a little TLC. The thing he enjoyed most was surrounding himself with family and bringing them together whenever he could. He attended reunions and parties for family and friends, both young and old. He was our patriarch. Anthony was a mentor and friend to many, and he was always there if you needed him. He was known to say, "To be the man, you gotta be the man." and he was just that!
Anthony is preceded in death by his father W.M. Fields and father Samuel George Watkins.
Anthony is survived by his mothers; Glory Dean Watkins, and Shirley Mae Fields. Siblings; Kimberly Denice Byrd, Leigh Candy Fields, Samuel "Monty" Lamont Watkins, William Michael Fields, Akua Carl Watkins, Heather Cece Fields, and Ayanna Renee Watkins. Soulmate/BFF; Cheryl Beedles, Children; Anthony Beedles,(Casondra) Angela Smalley (Jaron), Ebony Resurreccion (Anthony), and Monique Beedles (Shamone). Grandchildren; DeNeil Smalley, Kingston Beedles, Jared Smalley, Aiden Smalley, Brooklyn Beedles, Elijah Resurreccion, Micah Smalley, and Ava Resurreccion, as well as a host of aunts, uncles, cousins, nieces, nephews, and friends.
The family wishes to extend their sincerest gratitude to all the family and friends who brought food, sent well wishes, visited with the family, made monetary contributions, gave of their time and talents, and showed support during this most difficult time. We know how much he meant to us all, but it is a beautiful blessing to see how much his life & love touched all of you.
~Thank you, The Beedles Family~
Anthony Beedles Celebration of Life Live Stream from WeStreamServices-3 on Vimeo.
Services
Visitation:
September 18, 2022 10:00 am - 11:00 am
Wages & Sons Gwinnett Chapel
1031 Lawrenceville Hwy.
Lawrenceville, GA 30046
770-277-4550

Add to My Calendar
America/New_York
2022-09-18 10:00:00
2022-09-18 11:00:00
AnthonyDilanoBeedlesVisitation
Visitation
1031 Lawrenceville Hwy.,Lawrenceville, GA 30046
Funeral Service:
September 18, 2022 11:00 am - 12:00 pm
Wages & Sons Gwinnett Chapel
1031 Lawrenceville Hwy.
Lawrenceville, GA 30046
770-277-4550

Add to My Calendar
America/New_York
2022-09-18 11:00:00
2022-09-18 12:00:00
AnthonyDilanoBeedlesFuneral Service
Funeral Service
1031 Lawrenceville Hwy.,Lawrenceville, GA 30046
Interment:
Georgia National Cemetery
1080 Scott Hudgens Dr.
Canton, GA 30114
770-479-9300

Add to My Calendar
America/New_York
1970-01-01 00:00:00
1970-01-01 00:00:00
AnthonyDilanoBeedlesInterment
Interment
1080 Scott Hudgens Dr.,Canton, GA 30114
Memories Timeline
Guestbook
---