Bhagwandeen Nandlall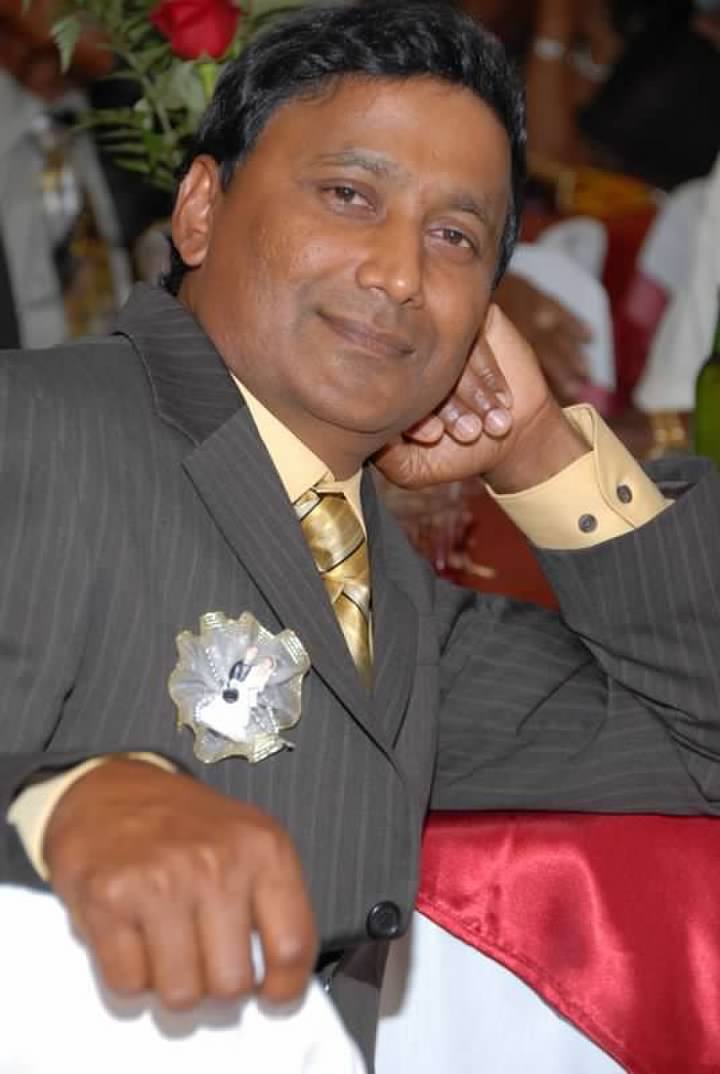 March 16, 1962 ~ October 23, 2022
Our dearly beloved Bhagwandeen (Bhaggy) Nandlall, aged 60, departed this earthly life on Sunday October 23, 2022, in the comfort of his home, at Dacula, Georgia, USA.
Bhaggy, as he was fondly called, was born on March 16, 1962, to the late Ramrattie & Boodram Nandlall in La Belle Alliance, Essequibo Coast, Guyana, South America. He spent his youthful days in Guyana, and pursued his secondary education at the Anna Regina Multilateral School, Essequibo Coast, Guyana.
Bhagwandeen married the love of his life, the late Meenawattie (Meena) Nandlall on May 14, 1986. The union of Meena and Bhaggy produced one child, a cherished daughter, Kavita Nandlall. Bhaggy was a loving and caring husband and father, and gave invaluable support to his extended family. He was preceded in death by his Wife, Meenawattie (Meena) Nandlall, and his parents Ramrattie and Boodram Nandlall.
Bhagwandeen was very ambitious, and immigrated to the United States of America in 1988. He had a successful career, as a supervisor for Makita Corporation of America located in Buford, Georgia. He was a dedicated worker and workaholic.
Bhaggy was very disciplined in his approach to life, and was viewed as "Mr. Fixer Upper"; because he wanted everything to be done efficiently. He was also blessed with skills as a tailor and was a competent gardener. During his relaxing moments, he loved to play cricket and catch fish. Bhaggy was jovial and loved for his sense of humor, which brought joy and laughter to his family and friends.
In the last few weeks of his life, Bhaggy enjoyed the company of his nephew Ghanesh (Sunny), nephew Tribhu Roopnarine and family, sister-in-law Sharon Wilson and family, brother-in-law Jai Dhanpal and family, Bobby Ramjaiwan and family, Roy Ganga and Family, the Kotak Family, the Singh Family, and the Corbin family, Shaka, Nalisha, and their son James who all supported him and Kavita, during the last days of his journey on earth.
We will cherish the memory of our beloved Bhaggy, we will remember him for his caring and endearing attributes. He is now at peace. May he rest in eternal peace.
Bhagwandeen Nandlall is survived by the following relatives:
His Daughter, Kavita Nandlall
Sister, Parbattie(Prano) Singh of London, England
Sister, Bhagwandai (Renee) Deodat of New York
Sister, Leelawattie(Leela) Ganpat and Brother-in-law Ram of Essequibo Coast, Guyana Brother, Dindial Boodram and sister-in-law Zeleana of Essequibo Coast, Guyana
Nieces: Sharmella, Shanna, Shamenia (Polly), Renetta(Dolly)
Nephews: Tribhuwand(Tribhu), Darsh, Ghanesh(Sunny), Rupesh(Azid), Darren, Shashi, Ravendra(Ravo), Chatesh(Chandi)
Niece-in-laws: Taruna, Anna, Vidya, Susie
Grandnieces: Sushmita (Pooja), Ariya, Aalana, Thiya
Grandnephews: Ryan, Rayon, Jayden
He was preceded in death by his Wife, Meenawattie (Meena) Nandlall
Parents Ramrattie & Boodram Nandlall
Sister, Chandrawattie(Chaio) Roopnarine
Brother-in-laws: Bissoon, Robert, Ashmi
Nephews: Shane, Heamchand
Grandnephew: Sanjay
Visitation and Funeral Services will be held on:
Saturday, October 29, 2022 from 9 AM – 12.00 PM at
Wages and Sons funeral Home located at 1031 Lawrenceville Highway, Lawrenceville, GA 30046
Officiating by Dr. Charles A. Parrish (Buddy).
Services
Visitation:
October 29, 2022 9:00 am - 10:00 am
Wages & Sons Gwinnett Chapel
1031 Lawrenceville Hwy.
Lawrenceville, GA 30046
770-277-4550

Add to My Calendar
America/New_York
2022-10-29 09:00:00
2022-10-29 10:00:00
BhagwandeenNandlallVisitation
Visitation
1031 Lawrenceville Hwy.,Lawrenceville, GA 30046
Funeral Service:
October 29, 2022 10:00 am - 11:00 am
Wages & Sons Gwinnett Chapel
1031 Lawrenceville Hwy.
Lawrenceville, GA 30046
770-277-4550

Add to My Calendar
America/New_York
2022-10-29 10:00:00
2022-10-29 11:00:00
BhagwandeenNandlallFuneral Service
Funeral Service
1031 Lawrenceville Hwy.,Lawrenceville, GA 30046
Memories Timeline
Guestbook
---