Carlos Corredor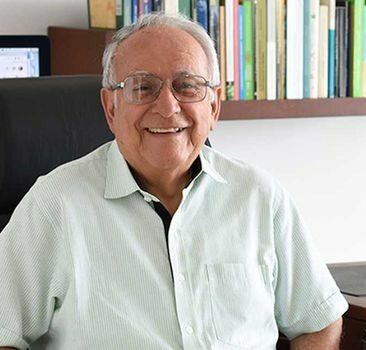 October 7, 1936 ~ April 11, 2022
Born in: Bogota, Colombia
Resided in: Cucuta, Colombia
Carlos Francisco Corredor Pereira who served as vice-rector and member of the General Chamber of the Simon Bolivar University, in Cúcuta, passed away this Monday, April 11, at the age of 86. This was confirmed by the institution through a statement. (Read: 36,000 vacancies will be opened for teachers in Education Secretariats in Colombia).
Corredor Pereira who was born in Bogotá and completed his professional studies in Chemistry at Tennessee Wesleyan College, where he obtained a B.S., in 1958.
He also received a Master's degree in Biochemistry from the University of Missouri, Columbia, which he completed in 1961, and a PhD. from Duke University, receiving a PhD. degree in 1968. In his undergraduate years at the University of Missouri, teaching assistant of the Department of Biochemistry.
Once he returned to Colombia, Corredor Pereira joined the Department of Biochemistry at the Valley University, where he served as professor from 1962 to 1992. In this institution he was head of the Biochemistry Section from 1970 to 1973; director of the Medical Sciences graduate program, from 1975 to 1982; Director of Teacher Welfare, in 1982; head of the Department of Physiological Sciences, from 1984 to 1986; Dean of Research, from 1986 to 1988; and Vice Chancellor for Research, from 1988 to 1992.
A year later, in 1993, he went to work at the Javeriana university, in Bogota. There he held the position of academic dean of the Faculty of Sciences for nine years. He then was director of Postgraduate Studies at this faculty, between 2003 and 2009. In 2010 he joined the University of Saint Bonaventure in Cartagena as director of the Master's in Clinical Biochemistry. (You can read: What does the reduction of the initial education budget imply)
To Simon Bolivar University It arrived first at the headquarters in Barranquilla. He was in 2012 holding the position of dean and founder of the Faculty of Basic and Biomedical Sciences. He later assumed the position of director of the Master's in Genetics.
Corredor Pereira was also a member of the Board of Directors of the Amazon Institute for Scientific Research (SINCHI) on behalf of the Javeriana university. (Also read: During the pandemic, the number of children in Colombia who lost the year doubled)
Dr. Corredor was so humble, that whenever someone addressed him by his title, he said don't call me Dr. or Professor, just call me Carlos (or Carlitos).
Carlos Francisco Corredor Pereira, quien se desempeñaba como vicerrector y miembro de la Cámara General de la Universidad Simón Bolívar, en Cúcuta, falleció este lunes 11 de abril a los 86 años de edad. Así lo confirmó la institución a través de un comunicado. (Lea: Abrirán 36.000 vacantes para docentes en Secretarías de Educación en Colombia)
Hasta el momento, la causa de la muerte no ha sido confirmada. Corredor Pereira quien nació en Bogotá y completó sus estudios profesionales en Química en Tennessee Wesleyan College, donde obtuvo un B.Sc., en 1958.
También recibió una maestría en bioquímica de la Universidad de Missouri, Columbia, que completó en 1961, y un doctorado. de la Universidad de Duke, recibiendo un doctorado. grado en 1968. En sus años de pregrado en la Universidad de Missouri, asistente de enseñanza del Departamento de Bioquímica.
Una vez de regreso a Colombia, Corredor Pereira se incorporó al Departamento de Bioquímica de la Universidad del Valle, donde se desempeñó como profesor de 1962 a 1992. En esta institución fue jefe de la Sección de Bioquímica de 1970 a 1973; director del programa de posgrado en Ciencias Médicas, de 1975 a 1982; Director de Bienestar Docente, en 1982; jefe del Departamento de Ciencias Fisiológicas, de 1984 a 1986; Decano de Investigación, de 1986 a 1988; y Vicerrector de Investigación, de 1988 a 1992.
Un año después, en 1993, se fue a trabajar a la Universidad Javeriana, en Bogotá. Allí ocupó el cargo de decano académico de la Facultad de Ciencias durante nueve años. Luego fue director de Estudios de Posgrado de esta facultad, entre 2003 y 2009. En 2010 se incorporó a la Universidad de San Buenaventura de Cartagena como director del Máster en Bioquímica Clínica. (Puede leer: Qué implica la reducción del presupuesto de educación inicial)
A la Universidad Simón Bolívar llegó primero a la sede en Barranquilla. En 2012 ocupaba el cargo de decano y fundador de la Facultad de Ciencias Básicas y Biomédicas. Posteriormente asumió el cargo de director de la Maestría en Genética.
Corredor Pereira también fue miembro de la Junta Directiva del Instituto de Investigaciones Científicas de la Amazonía (SINCHI) en representación de la Universidad Javeriana. (Lea también: Durante la pandemia se duplicó el número de niños en Colombia que perdieron el año)
El Dr. Corredor era tan humilde, que cada vez que alguien se dirigía a él por su título, decía no me llamen Dr. o Profesor, solo llámenme Carlos (o Carlitos).
Memories Timeline
---