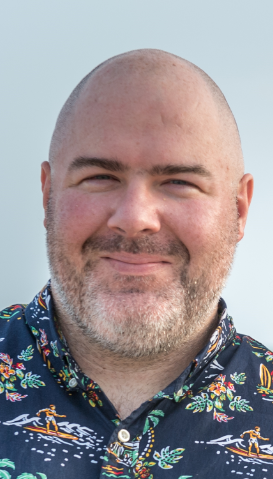 January 4, 1982 ~ April 24, 2020

Resided in: Stone Mountain, GA
David William Fleming, 38, of Stone Mountain, Georgia passed away on Friday April 24, 2020 at Emory Decatur Hospital following complications from surgery to remove a brain tumor. David had been recently diagnosed with aggressive brain cancer, Glioblastoma, on Tuesday April 21, 2020 after a week long illness.
David William Fleming was born at Piedmont Hospital in Atlanta, Georgia on January 4, 1982 to Donald Douglas Fleming, Jr. and Teresa Jane Fleming, along with David's twin brother Timothy Michael Fleming.
David was a life-long coach of youth football and baseball. His list of coaching achievements are as follows: South Gwinnett High School Baseball and Athletic Programs (2018 – 2020) Providence Christian Academy Football, Lilburn, GA (2014-2016) Grady High School Football, Atlanta, GA (2012) St. Pius Catholic High School Football, Atlanta, GA (2010-2011) Collins Hill High School Baseball, Suwannee, GA (2005-2010) Dunwoody High School Football, Dunwoody, GA (2013, 2007-2008) Atlanta Colts Youth Association, Murphy Candler Park, Atlanta, GA (1997-2011) Much of David's coaching career was spent at the Atlanta Colts Youth program where he followed in his father's footsteps as a Youth Coach and where he was able to coach alongside his brother's Timothy Michael and Donald Douglas Fleming, III. David carried a lot of friendships and memories from his time with the Colts. A further highlight of David's coaching career was receipt of the State of Georgia's Directors Cups Award as a part of the coaching staff for the Collins Hill athletic program for the 2010 season.
David also enjoyed playing sports and was a member of the Eastside Red Sox Baseball Club of the MABL. In his four year tenure David was the First Baseman, Pitcher and Designated Hitter.
David was married to April Marie Sanders at the First Methodist Church in Stone Mountain, GA on April 21, 2012. David and April quickly grew their family giving birth to Tatum Jane Fleming on December 21, 2012 and William Michael Fleming on March 18, 2016. David and family made their permanent residence in Stone Mountain where they were active members of the community. There they enjoyed supporting the BOOST Economic Development initiative for the City of Stone Mountain. While they were also members of Mountain West Church in Tucker, Georgia. David and April were group leaders in the Mountain West Youth Program where David was affectionately referred to as "Coach".
David graduated High School from Collins Hill in Suwanee, Georgia in 2000, where he would later coach Baseball. He then attended Athens Technical College (2000) and Truett McConnell College from (2000-2001) David graduated from Georgia Gwinnett College in May 2017 receiving his Bachelor's Degree of Science in Education with a Major in Special Education and as a member of the Kappa Delta Pi International Honor Society for Education. David then began his teaching career in 2017 at Duluth Middle School, then moved the following year to South Gwinnett High School to pursue his passions of teaching and coaching. At South Gwinnett David was a teacher of Science, Technology and Math to his beloved Special Education students. David was also an active part of the South Gwinnett Athletic program supporting all sports as the assistant to the Athletic Director. His professional affiliations included the Professional Association of Georgia Educators and the AFCA – American Football Coaches Association.
David loved his family, friends, students and athletes unconditionally and never missed a chance to let them know.
David is survived by his wife April Sanders Fleming, daughter Tatum Jane Fleming and son William Michael Fleming who reside in Stone Mountain, GA. He is also survived by his mother Teresa Jane Fleming who resides in McDonough, GA, twin brother Timothy Michael Fleming, Tim's wife Camryne Amber Fleming, Tim and Camryne's children Zoe Alexandre Fleming, Kash David Fleming and Pyper Goodwin Fleming who reside in Suwanee, Georgia, and David's youngest brother Donald Douglas Fleming, III, who resides in Atlanta, Georgia. David's surviving extended family include, his aunts Deborah Marcella Dixon and Sandra Lutricia Dixon and their families living in McDonough, Georgia, his Uncle David Dennis Fleming and family in Casa Grande, Arizona, his Uncle Harmon Andrew Smith, PhD and his family in Conyers, Georgia and his in-laws Mike and Becky Sanders living in Stone Mountain, Georgia. David is also succeeded by his beloved Dachshund, Maximus Fleming.
David is preceded in death by his father Donald Douglas Fleming, Jr., his maternal grandparents George Washington and Myrtice Louise Dixon, his paternal grandparents Donald Douglas Fleming, Sr. and his wife Vernadeen Maria Fleming, and his Aunt Stephanie Maria Smith.
In his spare time David enjoyed spending time with his young family. He was an avid Football fan never missing a game of his beloved San Francisco 49ers and imparting that passion on his kids. He also enjoyed toy collecting and movie watching.
With the pandemic limitations in place, a celebration of David's life will be planned for a later date.
In light of his cancer diagnosis, donations can be made to the America Cancer Society at cancer.org in his honor. Or donations for his family can be made to GoFundMe.com at gf.me/u/xxv63s
David would want us all to remember Philippians 4:13 – I can do all things through Christ who strengthens me.
Memories Timeline
Guestbook
Sign the Guestbook, Light a Candle