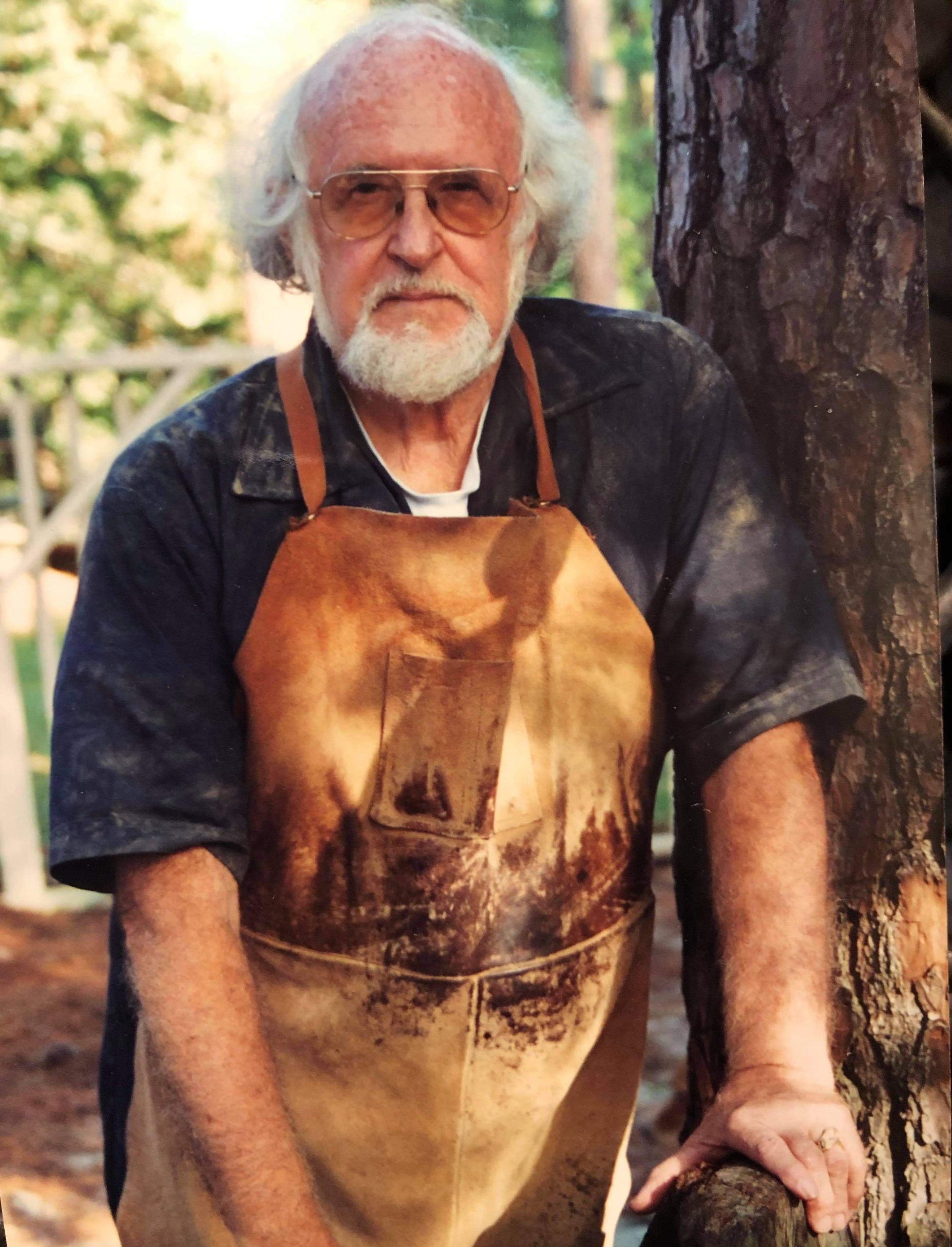 Born in: Iron Mountain, MI
Resided in: Stone Mountain, GA
Donald Carl Stolberg, PhD, 91, died peacefully on December 6, 2020. He was a first generation American son, student, lifeguard, veteran of the Korean Conflict, professor, author, coach, artist, volunteer, husband, and father. He is survived by his children Steele S. Stolberg, Todd Eldridge (Pam), and Tami Eldridge (Weaver), along with numerous and much loved nieces, nephews, sister-in-law Shirley Weiler, and dear friends Harriet Williams, Jerry Hagenmaier and Donna Sprague. He was pre-deceased by his wife Sharon, parents Carl and Agnes Stolberg, and siblings Earl Stolberg, Fern Kenney, Nancy Pulsifer and Lulu Paruleski.
Per his wishes and the realities of the current pandemic, there will be no memorial service. However, his children offer a few memories here in celebration of his full and remarkable life. We hope that you will share memories of your own here as well.
Don had several nicknames. As an artist, he signed his works "Emil" and was known to many childhood friends and fellow artists by that name. As a single man, he was dubbed "One Bag Stolberg" for his habit of buying only one bag of groceries so he could carry his briefcase in the other hand, requiring only one trip in from his car. His nieces and nephews called him Uncle Donald or Uncle Donnie. He was also known as "The Absent Minded Professor" for his propensity to be late and then run to the gate of sporting or performance events leaving the rest of us in the dust.
He was extremely proud that in his 40 year career at The University of Toledo as a Professor in Exercise Science, he never took a sick day. The university is where he met our mom, a student he gave a "C" grade to and then married. His scholarly interests were biomechanics and psychology of coaching. Curiosity about new technologies led him to spend a sabbatical at the Disney Studios in California learning how animation techniques could be used to analyze and teach optimal sport movement. This was long before the advent of the kinds of technology we have now. (He told us that someday we would all have computers in our homes to talk with each other, order groceries, and have pizza delivered — this was in 1969 as we watched the first moon landing, the internet wasn't a thing yet.). He loved and respected his colleagues. He particularly enjoyed helping to prepare his graduate students for the futures they were stepping into. We always seemed to have students and colleagues at our house and what a joy that was! We were exposed to the people, accents, cultures and traditions of the Netherlands, Israel, India, Australia, and China among others. He loved sports and introduced us to many of them. He especially loved volleyball. Members of the team he coached would practice using our neighbors (the Howards) net, followed by a dip in their pool and a cookout in our backyard. As "faculty brats" he would sometimes turn us loose on campus while he did some work on the weekends. Todd fondly remembers exploring laboratories, wrestling, gymnastics and college life in general. Steele took, and passed, his Advanced Power Volleyball class. Don's students loved him too. In 2018 he received a thank you letter from a former student nearing his own retirement, about the profound effect Don had on his life and career.
Don was brave. He served in Korea where his proudest accomplishment was avoiding KP duties for his full tour. He was modest about his service, preferring praise go to those who saw combat. At 40, he married our mom, a force of nature herself, with two pre-teen children, becoming an instant father and never leaving a grocery with only "one bag" again. When Steele was born, he became the father of an infant, and learned to change diapers. He took Tami to rock concerts, braving Alice Cooper, Steppenwolf, Brownsville Station, and The Guess Who. He took Todd to Toledo Mudhens and Detroit Tigers games and exposed us all to sports we had never heard of, like curling. He helped an often defeated yet defiant Tami with math, and he stayed up late (often very late) to ensure teenaged Steele got home safely.
Don loved his family. He researched Stolberg family genealogy and tracked down relatives in Finland — several of them came to visit and lifelong friendships developed. He loved the culture of Michigan's upper peninsula and introduced us to pasties and Swedish "PanAcakes," the Pine Mountain ski jump, and Spread Eagle Lakes recreation area. He was fascinated by Petosky stones and taught Steele rock tumbling. He held close, not only his siblings, but their children — supporting their endeavors in sports, dance, education, and business. He supported us in the same way — acting, dancing, wrestling, gymnastics, tennis, football, unicycling, martial arts, jewelry, chain mail, photography, poetry, creative writing. We visited family in Alabama, Maine, New York, Wisconsin and Michigan and they came to us. So many cousins — so little vacation time!
Don appreciated the natural world, especially animals. There was always a stray bird or squirrel being raised in our house. One robin in particular, "Cheer Up" lived in Don's study. The bird would sit on his shoulder or the top of his head and watch intently as Don hunted and pecked exam questions on his old Underwood. Then Cheer Up would scream at the top of his lungs until Don took him outside to dig worms. That bird would sit on the edge of the shovel and demand more worms until he was satisfied, and Don would oblige.
Don was "hip," he was cool. As a young bachelor he had a dark green t-bird convertible he drove with aplomb—until a patch of black ice totaled it, but fortunately not him. Later he had a dark maroon t-bird with an electric soft top. He listened, and thus we listened, to jazz, opera, and Lenny Bruce. In the 1970's he and mom took disco dancing lessons. They'd practice in the kitchen, then he'd put on his white Saturday Night Fever suit and they'd hit the clubs.
As an artist, Don was primarily known for wood sculpture. He also sketched, painted, blew glass, and made beautiful clay busts of Mark Twain and Bertrand Russell. He memorialized his Korea experience in a sketchbook of drawings and cartoons — some with commentary. However, wood spoke to him most strongly and he responded to its call. He began with abstracts and primitives in Ohio. After retiring to South Carolina his focus shifted to animals — cats, birds, otters, snakes, fish. He was also moved to reflect human experience — dancers, women, mother and child. The piece he was perhaps most proud of is of the Black Power salute by Tommie Smith and John Carlos at the 1968 Olympics in Mexico City, which he attended. He was appalled by the disparate treatment Black athletes received, and supported their protest. Years later a large piece of wood spoke their names and he created a piece that combines his love of sports with his artistic and social justice impulses. He loved sitting on the beach carving, wood chips flying, piling up in the sand and covering his torso, and talking to people about his work. He continued to carve into his 80's.
Don's volunteer activities are too numerous to list fully. He volunteered for arts organizations and artists collectives/galleries in Ohio and South Carolina. He painted the Founders Wall mural for The Humane Society of North Myrtle Beach SC. He and mom served together on the development committee for the design of the North Myrtle Beach SC Aquatics and Fitness Center. He served as the local ambassador for many high school basketball teams playing in the annual Beach Ball Classic, taking them to restaurants, attending their games, and cheering them on vociferously.
We wish to thank the people who provided him support, love, humor and dignity in his final years. Penny Weeks was his loving and indefatigable in home caregiver in Little River, SC. She's officially our sister now. The amazing staff at Phoenix Senior Living in Tucker, GA whose professionalism, expertise and caring were integral to his comfort and happiness, and who kept him free of Covid-19 at great risk to themselves. And finally the myriad tender and capable folks at Agape Hospice Care of Northeast GA who eased his transition.
Donations in his memory may be made to The Humane Society of North Myrtle Beach, PO Box 3369, North Myrtle Beach, SC 29582.
Memories Timeline
Guestbook
Sign the Guestbook, Light a Candle