Gerard "Jerry" A. Kitts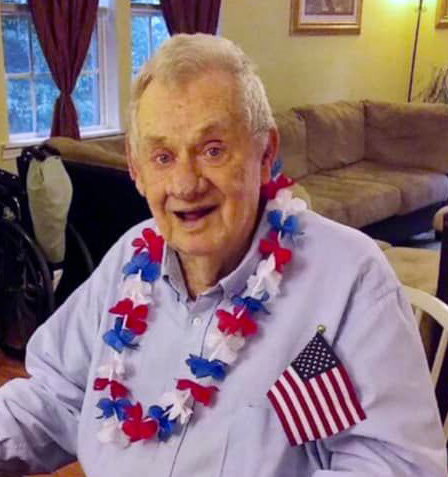 November 26, 1925 ~ January 20, 2022
Born in: Detroit, MI
Resided in: Lilburn, GA
Gerard A. Kitts passed away at Saint Joseph Hospital in Atlanta on January 20. Born in Detroit Michigan and moved to Muscle Shoals in the early thirties. Preceded in death by parents Alfred and Anne, siblings Rita, Bernard, Vincent, Frank (Father Gerard). Survived by seven nieces and nephews. Arrangements will be made with Our Lady of the Shoals Catholic Church at a later date. Interment will be at Holy Cross Catholic cemetery.
It is difficult to sum up 96 years of a man's life with a few words spoken in these few minutes.
Gerard A. Kitts better known as Jerry was born in Detroit Michigan and moved to Muscle Shoals Ala. with his family in the early thirties. He stated that there were only twelve families living in Muscle Shoals at that time.
As a child in the fifties I was surrounded by the world's greatest generation. I walked in the shadows of people who had saved the world from certain domination. Some people told war stories others said nothing. Jerry to my knowledge said nothing. So I will say it now.
He was drafted into the Army in April, 1944 and served in the 66th Infantry Division. After completing training in England the 66th boarded two transport ships bound for Cherbourg France. A German torpedo hit the Leopoldville, one of the two transport ships, resulting in the loss of 762 officers and men. This was half of Jerry's regiment. This sinking became the second highest loss of life for the US Navy in the European Theater. Had fate chosen Jerry's ship he would not have survived the war. Jerry and the remaining elements of the 66th were assigned to combat in Northern France where he was awarded the Bronze Star for Combat.
I never knew that Uncle Jerry was a war hero because he never mentioned it. I discovered his war record through research and old family papers.
After the war ended Jerry served as part of the occupation force in Europe for a year. Discharged 6/13/46 he returned home to Muscle Shoals, AL and worked in construction as a carpenter and painter.
My personal interaction with Uncle Jerry started in the late sixties when my family moved to Atlanta. Uncle Jerry taught me to catch a football and took me too many movies. We also attended church services together. I was very grateful for the time he spent with me and other family members. \
Faith was the thread that held Jerry's life together. He told me that God got him through the war. My wife and I prayed with Jerry in his last hours. He held onto his faith until the very end.
I will always remember Uncle Jerry for his quick wit, a constant smile, a generous spirit and a giving heart. He was an inspiration. I will remember him in my heart for the rest of my Life.
Services
Celebration of Life:
February 4, 2022 11:00 am - 12:00 pm
St. Stephen the Martyr Catholic Church
5373 Wydella Road SW
Lilburn, GA 30047


Add to My Calendar
America/New_York
2022-02-04 11:00:00
2022-02-04 12:00:00
Gerard "Jerry"A.KittsCelebration of Life
Celebration of Life
5373 Wydella Road SW,Lilburn, GA 30047

Memories Timeline
---