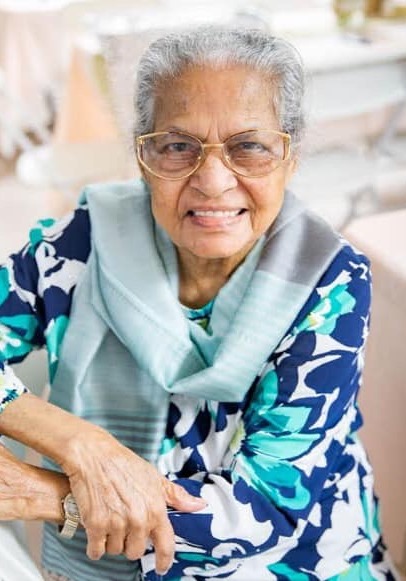 June 15, 1925 ~ May 1, 2019
Kumpala-Pallil Mariamma George
June 15, 1925 – May 1, 2019
Kumpala-Pallil Mariamma George, more affectionately known as Pallil Ammachi, was born on June 15, 1925, to Mathen Mathen and Achiamma of Chirayath, Puthenpeedika, Omallur, Kerala State, India. She was born into a Syrian Orthodox Christian family and was raised according to its teachings and practices. As a young adult, Mariamma and her family chose to embrace the Pentecostal faith. She attended the Church of God Mulakuzha Bible School to train for ministry. For a short time thereafter, she assisted her elder brother, Pastor C.M. Koshy, with outreach and evangelism in Kottarakara and Adoor, Kerala.
In 1945, Mariamma was married to Kumpala-Pallil Mathai George of Edayaramula, Kerala. His employment at the Paper Factory (Mill) allowed them to settle in Punalur, where they raised their five children. They were married for 38 years, served the Lord together as a family, and were an integral part of the Punalur Assembly of God Church. Along with being a devoted wife and mother, Pallil Ammachi served in local leadership roles with the Women's Ministries and the Fellowship of the A.G. Punalur Section. Her service to the Lord also included instructing women, visiting the sick, and engaging in evangelism and prayer ministries. After her husband's passing, Mariamma joined her children in the United States. In 1990, while residing in New York with her youngest son, she became a member of the New York Bible Assembly of God. Since 2014, she has resided in Atlanta, Georgia and has been an active member and supporter of the ministry of Calvary Assembly Church of God. Wherever she lived, she faithfully served the Lord and the local church with her spiritual gifts of exhortation, intercessory prayer, faith, evangelism, hospitality and service.
Pallil Ammachi's love and commitment for Jesus Christ, his Word, his Church and a lost world was evident through her life and faithful witness, in both word and deed. She had a heart for hospitality and embraced both saint and sinner alike. She always had an exhortation for the believers and a word of encouragement for the weary and needy soul. Equally unparalleled was her love, loyalty, and devotion to her family. She was as an ever-so-devoted wife, mother, and grandmother, and her greatest desire was that her children and grandchildren live to serve and honor the Lord. Her love knew no bounds and she cared for everyone like they were her own. She was by no means, just the Pallil family's Ammachi, she was everybody's Ammachi. Her love crossed both language and cultural barriers, touching the lives of those she never even conversed with.
She is survived by her five children and their families: Rev. Drs. George & Shalini Pallil of Pasadena, California; Drs. Sosamma & Abraham Joseph of Ernakulam, Kerala; Annamma & George Thomas of Atlanta, Georgia; Thomson & Blessy Pallil of New Hyde Park, New York; and Blossom & Rev. John Chacko of Houston, Texas. She also leaves behind nine grandchildren and six great-grandchildren.
Pallil Ammachi's exemplary life, her dedication to the Lord and Christian service, and her unbridled love have been an inspiration and blessing to countless believers worldwide. She will be dearly missed and fondly remembered as an unshakable woman of faith, a bold witness of the Gospel, and as a pillar of the church in India and abroad, loved by one and all. Pallil Ammachi's legacy and commitment to Christ and His mission is carried on by the dear ones she leaves behind.
Memories Timeline
Guestbook
Sign the Guestbook, Light a Candle