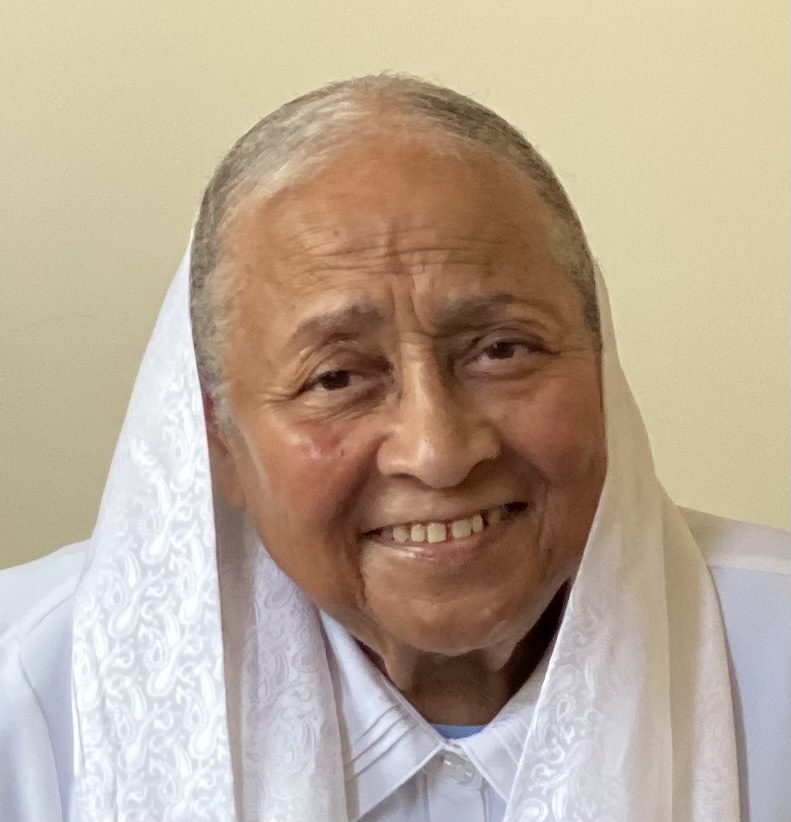 December 4, 1937 ~ December 11, 2021
Born in: Cleveland, OH
Resided in: Grayson, GA
PATRICIA ANN CLEVELAND
December 04, 1937 – December 11, 2021
Patricia Ann Arnett, lover and worshipper of GOD, daughter of the late Lawrence Arnett and Anna Bonnell Wilson was born in Cleveland, Ohio on December 04, 1937.  She was the eldest of two children.  Patricia passed this life peacefully on Saturday morning, December 11, 2021 at home, surrounded by close friends.
Patricia dedicated her life to her Lord & Savior and confessed her faith in Jesus Christ at an early age. Patricia received her formal education in Cleveland, Ohio and graduated from John Hay High School. She was a good student and enjoyed reading, writing, journaling and sketching.  Patricia enjoyed pretty things and often decorated her notebooks with intricate and colorful designs.  Patricia enjoyed having fun and going places and dreamed of traveling abroad to exotic places across the globe.  As a result of her gentle spirit and easy-going personality, she made friends easily and maintained some of those relationships throughout her lifetime.
Upon graduation from high school, Patricia married Eric Vernon Cleveland.  To this union, three beautiful children were born.  Patricia was a homemaker but also held jobs at the VA Hospital and the Cleveland Clinic in medical records while earning her Associate's degree from Cuyahoga Community College.  Desiring a better life for herself and her children, Patricia cried out to God.  She wanted her life to be a testimony to her family and loved ones. In her search, she eventually found a home with the New Testament Church where she served faithfully fulfilling the Great Commission.  After her youngest child came of age, Patricia followed her calling and entered the ministry full time.  One of her greatest joys was using her musical gifts and talents to sing and teach praise and worship songs to The Most High.
Patricia remained obedient to God, and God fulfilled many desires of her heart including allowing her to travel and live in tropical climates and beautiful places both domestic and abroad.  Now she is singing in heaven.
Patricia leaves to celebrate her life, children – Eric V. Cleveland, Vicki M. Cleveland (Don Taylor), and Geoffrey A.Cleveland (Bonita); Grandchildren- James (Careen), and Braxton & Baylie: Four great-grandchildren Isaiah, Elijah, Noah and Chloe. One Great great grandson, Roman: Two nieces Stephanie, and Sharon, and one nephew, Gregory. Patricia shared her joy in Christ Jesus on daily phone calls with her sister and best friend JoAnn, who preceded her in death.  Also preceding her in death is her former husband Eric Cleveland and grandchildren Eric III, Erica, and Rashida.  She also leaves to mourn, a devoted New Testament family, a host of cousins, extended family and sorrowing friends who loved her deeply.  Patricia's life was fulfilled.  She lived for Christ.  Her influence and her witness will forever remain in the lives of all who knew her.
"God saw the road was getting rough
the hills were hard to climb;
He gently closed those loving eyes
and whispered, "peace be thine."
The weary hours, the days of pain,
the sleepless nights are passed.
The ever patient, worn out frame
has found sweet rest at last."
God saw that you were weary
 so He did what He knows best.
He came and stood beside you,
and whispered, "come and rest."
You bid no one a last farewell,
Not even a goodbye.
You were gone before we knew it,
And only God knows when and why.
Dearest Mom; Sister-Mom – Gronnie – Grandma Patch – Aunt Pat
We love you.  We have always loved you.  Perhaps we did not always understand your assignment.  Perhaps we sometimes felt cheated out of your attention or abandoned and in need of your embrace.  But looking back, you were there.  You were always there showing us love in so many ways – praying for us, writing letters even when we did not respond or write back, sending tracts, sending cassette tapes and yes, praying continuously… 
We thank you for the example that you set for us.  In your quiet way, you exemplified strength, determination, a steadfast and unmovable faith.  You were consistent.  You did you before "doing you" was even a thing, and that took courage. 
We thank you for loving us.  You loved us even when we were unlovable.  In our heart of hearts we know and we understand that you loved us enough to risk our relationship on this side, in an effort to ensure our salvation on the other side.  You wanted for us what we did not always even want for ourselves. 
We thank you for your prayers and intercessions on our behalf and wonder, who will pray for us now?  Who will pray with the urgency and fervor that we no doubt took for granted?
We thank you for your legacy and your living testimony.  We are inspired by your faith walk.  Rest well kind and gentle one.  We thank God for you.
Love, Your Family
Acknowledgment
Your sharing in our grief since the earliest moments of our sorrow has helped contain us in God's presence.  For this, we bear you our humblest gratitude.
~The family of Patricia Ann Cleveland 
Patricia Cleveland Celebration of Life Live Stream from WeStreamServices4 on Vimeo.
Services
Funeral Service: December 18, 2021 10:00 am - December 18, 2021 1:00 pm
Wages & Sons Gwinnett Chapel
1031 Lawrenceville Hwy.
Lawrenceville, GA 30046
770-277-4550

Add to My Calendar
America/New_York
2021-12-18 10:00:00
2021-12-18 01:00:00
Patricia AnnClevelandFuneral Service
Funeral Service
1031 Lawrenceville Hwy.,Lawrenceville, GA 30046
Memories Timeline
Guestbook
Sign the Guestbook, Light a Candle