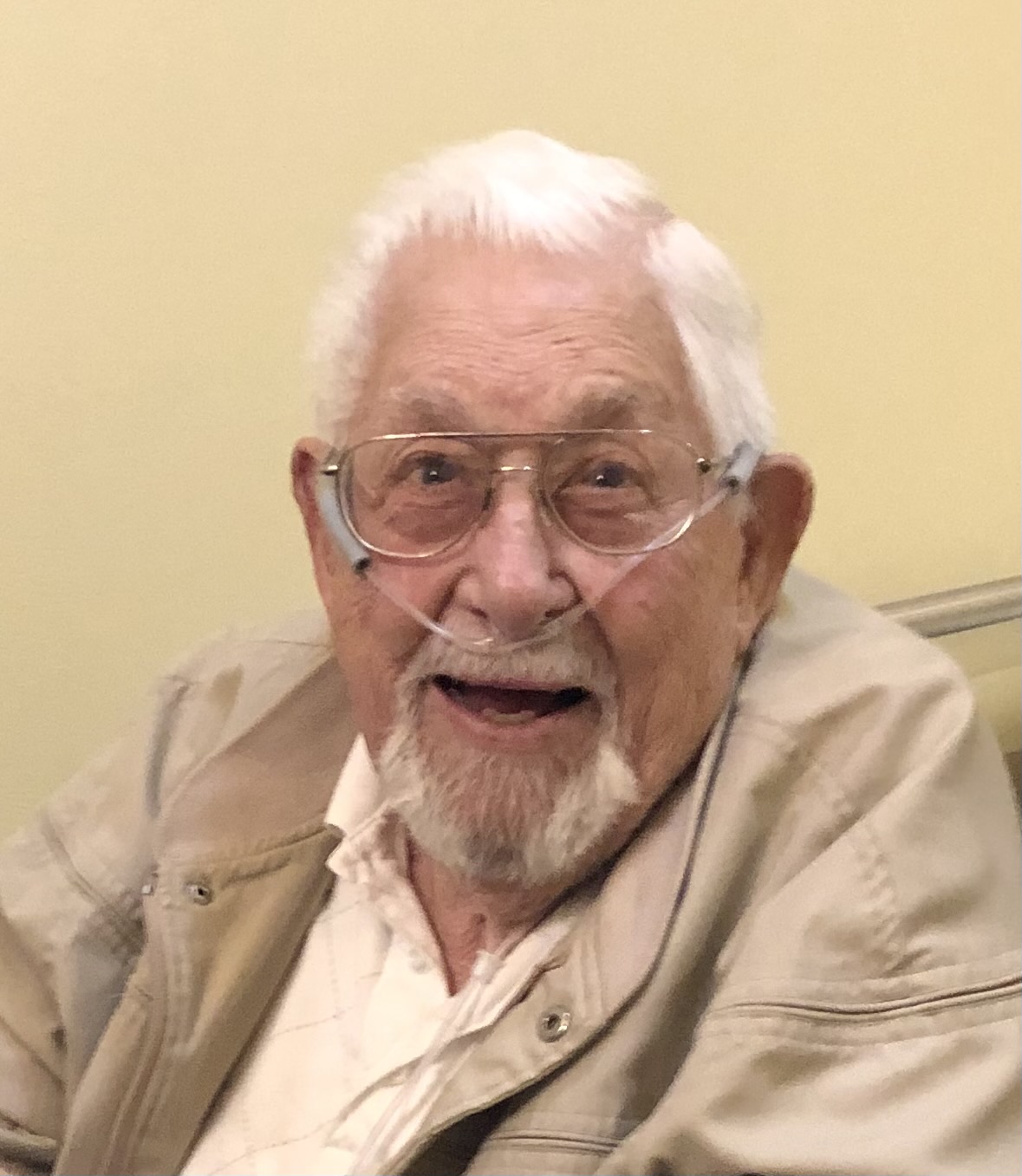 October 4, 1923 ~ July 4, 2021
Born in: Roda, Virginia
Resided in: Lawrenceville, Georgia
Douglas Carroll Quillen, 97, passed away on Sunday, July 4th, 2021 at home in Lawrenceville, GA. He passed peacefully in his sleep while his adoring wife Shirley held his hand talking about their life together.
Doug was born in Roda, VA as the youngest of 7 children. His mother passed away when he was 14 years old and then was sent to Episcopal Boarding School in Lynchburg, VA for a year before being sent to be raised by his sister in Roanoke, VA. Doug grew up in the Great Depression where he learned skills of saving money, making his own toys, and conserving resources. Doug and Shirley met in English class at Jefferson High School, in Roanoke, VA when Doug was 16 and Shirley was 14. Back in high school in the 1930's, he loved to play tennis, but Shirley couldn't run fast enough because her legs were too short so they gave that up. He'd ride on the bus from his sister's house and pick up Shirley and they'd watch a movie at the Grandin Theater. They both fondly remember their courtship. When America entered WWII, Doug was anxious to sign up for the Army Air Force and left school in the 11th grade at age 19. He selected Aviation Mechanic for his service and served our country for 3 years in WWII, travelling in 17 countries, stationed in India, China and Burma. His position was Staff Sergeant where he learned to repair and work on airplane engines, specifically the C-47. Following the war, he returned to Roanoke, Virginia, married his high school sweetheart, Shirley and had two sons, Paul and David. They moved to Miami, FL and lived in Florida for the majority of their lives. Doug was active in Cub Scouts, Boy Scouts and Sea Scout Ship #537. He was an active member of the Elks Club, and Exalted Ruler from 1990-1991. He held a lifetime career of 29 years with Eastern Airlines as a licensed A&E Mechanic. Doug and Shirley retired in their 50's and loved travelling in their motorhome around the United States, often with their grandchildren, creating cherished memories. They also travelled to 36 more countries. All together he travelled to all 50 of the United States, 53 countries, and all the way around the world. Doug lived life fully and was loved by all. His smile and a knowing nod let you know you were doing just fine.
Doug is preceded in death by his parents, Henry Holloway Quillen and Elizabeth Stapleton Quillen and his 6 siblings. He is survived by his precious wife of 75 years, Shirley Taylor Quillen with whom they had two sons, Paul Quillen of Cartersville, GA (dv. Judy Rohlik, m. Lydia Quillen) and David Quillen, of Buckingham, VA. (dv. Sue Miles). They have 6 grandchildren: Amy Warriner (m. Ben Warriner), Jamie Quillen (preceded him in death), Miranda Hoskins (m. Eric Hoskins), Kathryn Richardson, Miles Quillen (m. Autumn DeMet) and Julie Quillen-Scott (m. Bill Scott). They have 9 great-grandchildren: William Warriner, Erick Figueras, Elise Figueras, Aiden Richardson, Carter Richardson, Zane Hoskins, Zoe Hoskins, Evie Hoskins, and Evan Hoskins. Through Paul's second marriage, they have also been blessed with granddaughters Dorrie Armstrong, Kathy Martin (m. Jack Martin), grandchildren, Amber McClure, Derek Armstrong, Blake Armstrong (m. Virdi Armstrong), Heath Martin, Lauren Johnson (m. Jacob Johnson), Connor Armstrong (m. Casey Armstrong), Ashley Turner (m. Jon Turner) and great-grandchildren: Madelyn McClure and Patrick McClure.
A private viewing for the bereaved family will be held Wednesday, July 7th from 2-3 pm at Wages & Sons, 1031 Lawrenceville Hwy, Lawrenceville Ga 30046. The military service and interment will be conducted at the Georgia National Cemetery, 1080 Scott Hudgens Dr, Canton, GA 30114, honoring Doug's service in WWII on Monday, July 26th at 1 pm.
Flowers can be sent to Shirley Quillen at 3100 Club Drive, #232, Lawrenceville, GA 30044.
Services
Graveside Service: July 26, 2021 1:30 pm - July 26, 2021 2:00 pm
Georgia National Cemetery
1080 Scott Hudgens Dr.
Canton, GA 30114
770-479-9300

Add to My Calendar
America/New_York
2021-07-26 13:30:00
2021-07-26 02:00:00
DouglasCarrollQuillenGraveside Service
Graveside Service
1080 Scott Hudgens Dr.,Canton, GA 30114
Memories Timeline
Guestbook
Sign the Guestbook, Light a Candle