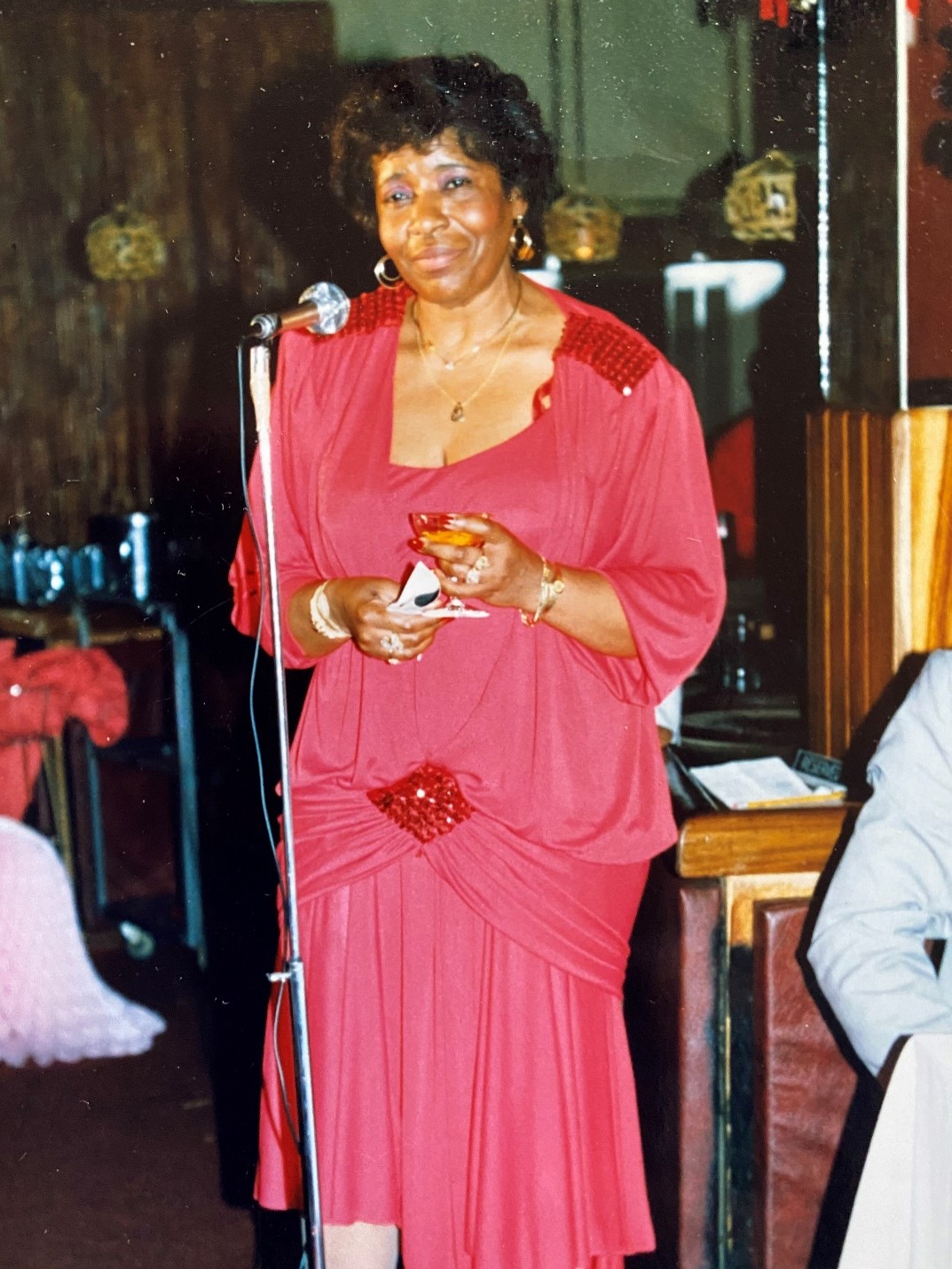 August 11, 1936 ~ March 16, 2021
Born in: Jamaica
Resided in: Georgia
We are here to celebrate your life. And the measure of its worth. And every single life you touched. While you were on this earth. We wish to pay our last respects. That's why we all are here. To thank you for your love. And all the memories we hold dear. It's been a privilege to have known you. We were family and a loving unit too. We were friends, and we truly loved you.
We feel honored yet humbled to be offering tribute for the life of a great human being, a lady of unmatched valor and moral fortitude, from childhood, she became an icon even before we had the opportunity to truly discover, recognize and understand the power and impact that her life embodied. She was the personification of compassion and integrity. Her life was a testimony to the fact that Jehovah uses good people to do great things. She never sacrificed her integrity but treated all men fairly. This was in essence, who she was. Her concern for the down-trodden changed the trajectory of many lives and her unrelenting quest to relieve the struggles of the dispossessed will keep us reminded of our divine purpose on this earth.
The sunrise of August 11th 1936 heralded the birth of a female child, to parents Inez and Bertram whose arrival brought a great beam of light into this world and permeated the life of parents with great happiness. Her academic journey began at Brandon Hill Primary school, later on, continued at Carron Hall Vocational High School and then to Shortwood Teachers' College. Her thirst for knowledge was insatiable and she was drawn to literary pursuits and she excelled. Her oratorical and poetic skills were unquestionable. And she was a stickler for concord and grammatical accuracy. She will remain renowned for her passionate contributions at debating current and topical issues. She was the family story-teller who was adept at manipulating the emotional responses of her audience. We can all recall distinctly, that she was always ready to provide a rebuttal for widely held views and positions. As an outstanding educator, she became an iconic figure to those who had the opportunity to have discovered the impact and power that her life embodied. She changed the direction of many lives and guided students away from life's pitfalls. She had the ability of unearthing hidden and latent talents and skills.
She was home maker with a plethora of skills and talents which accounted for her area of specialization when as a renowned educator she majored in home economics, with a combined focus on food and nutrition, textile and designing and housekeeping and catering. She mastered every aspect of this programme and became a sought after educator by many leading school administrators.
Speak about status and prominence, in Jamaica, Mazie achieved all of this but never lost the common touch. She was never pretentious, proud or petulant, but her life was always laced with kindness, hilarity and industry. Her greatest joy was getting together with friends over a meal she had prepared, always with sincere love being the main ingredient.
There is no attempt to make her greater in death, than she was in life. She was brutally outspoken and honest about her feelings. All of us here understood her and certainly came to appreciate her candor. To us all she was inimitable and this mannerism was devoid of malice and for us all, became a source of sheer joy.
If we were to speak of Mazie without declaring that she was fun-loving and earthy we would be dishonoring her memory and even in death we would earn her ire. She exhibited no modesty in declaring herself the best dancer around. She would dance in total abandonment, lost in the rhythmic flow of her limbs and a facial expression which indicated that she was in her own world.
What in her life superseded friendship and profession? First her love for her only son, Edgar and daughter-in-law, Fay, her grandchildren, great grand-children, parents and siblings. She honored her parents and did so with passion and sincerity. They never doubted her love for them because she was always protective and caring; they in turn also adored her, and she died knowing that if love, care, devotion, prayer and yes tears could have saved her, theirs would have been enough.
As for her spouse, John, who predeceased her, they were the inseparable duo. They had a magical attachment to each other and so their marriage was the inevitable outcome.
Mazie valued friendship, and had an uncanny attachment and sense of loyalty, to a cadre of friends that could not be severed by disagreements, dissent, time, distance and life's circumstances. She kept in touch with and spoke of her cousins Myrtle Elson (Talla) and Gloria Moore (Lee), Norma Grant, friends Francella Brightly, Phyllis, Barbara Saunders, Iona Moore, Sybil Facey, Mary Pinnock and many brothers and sisters of her beautiful congregation of Jehovah Witness with a tone laced with sincere love and admiration. As for her cousin, Earl Moore, when he died, she lost a part of herself.
Mazie's commitment to the faith of Jehovah's witnesses was the adhesive that enabled her to have achieved personal unity of heart and mind. She gave love, respected others. Made and kept good friends and had a great marriage
If we learn from her life then she has left a rich legacy it is painful to say goodbye to a faithful steward, an exemplary wife, an outstanding mother and mother-in-law, a doting grandmother, an extra-ordinary sister, a loyal friend. She belonged not only to her family but to all of us represented here.
Mazie had every gift except a pain-free existence. She experienced three bouts of cancer but even this deadly malady did not faze her. Her spiritual fortitude and positive mindset, kept her defying the odds and surviving not one, but all three episodes. As we try to make sense of her fairly sudden departure we must acknowledge that she went somewhat on her terms. No fuss, no prolonged suffering, and definitely untouched by covid-19. She believed that if we live to be a hundred, it is pointless if we are not living with a keen sense of purpose. It is not the length of days, but the quality of our lives that will matter.
So Mazie, we do not say in grief that you are no more
But we will live in thankfulness that you were
Our joy has been greater
Our love certainly deeper
Our lives definitely fuller
Because we shared your moment
Children: Son – Edgar (Derrick), Daughter-in-law – Fay, grandchildren: Taneisha, Xavier, Jamie; great-grandchildren: Jordyn, Dominic, Amelie, siblings: Bev, Pam, Nova Isolyn, nephews – Marlon, Ryan, Mickhale, Niece- Rochelle, relatives and friends – Together we share these poetic lines.
If we had only known you would be silent so very soon. We would have memorized each wise and witty remark And in the sad and dull moments, we'd think of them and smile. If we had only known, you would be silent so very soon. We would have covered you with more hugs and kisses. We would have held your tender hands
Mazie, you were special to us all
You brought joy and sunshine to our lives
We somehow felt you would have been around for many years
But then you just suddenly went on home
If we had only known that phone call was the last
We would have reminded you many more times
Of the love held deep within our hearts
We would have told you how much you've blessed our lives
If we had only known
So much more love we would have shown
If we had only known, if we HAD ONLY KNOWN.
ZOOM Funeral Service as seen below:
Meeting ID: 827 7659 5016
Password: @Hy1ton
https://us02web.zoom.us/j/82776595016?pwd=Mkk1VjRFY3ZGWnJ2KzhlWEl1M2o1QT09
Services
Visitation: April 3, 2021 12:00 pm - April 3, 2021 1:00 pm
Wages & Sons Gwinnett Chapel
1031 Lawrenceville Hwy.
Lawrenceville, GA 30046
770-277-4550

Add to My Calendar
America/New_York
2021-04-03 12:00:00
2021-04-03 01:00:00
ImeldaLouiseGrant-HyltonVisitation
Visitation
1031 Lawrenceville Hwy.,Lawrenceville, GA 30046
Funeral Service: April 3, 2021 1:00 pm - April 3, 2021 2:00 pm
Wages & Sons Gwinnett Chapel
1031 Lawrenceville Hwy.
Lawrenceville, GA 30046
770-277-4550

Add to My Calendar
America/New_York
2021-04-03 13:00:00
2021-04-03 02:00:00
ImeldaLouiseGrant-HyltonFuneral Service
Funeral Service
1031 Lawrenceville Hwy.,Lawrenceville, GA 30046
Add to My Calendar
America/New_York
1970-01-01 00:00:00
1970-01-01 00:00:00
ImeldaLouiseGrant-HyltonInterment
Interment
925 US Highway 29 S,Lawrenceville, AG 30046
Memories Timeline
Guestbook
Sign the Guestbook, Light a Candle