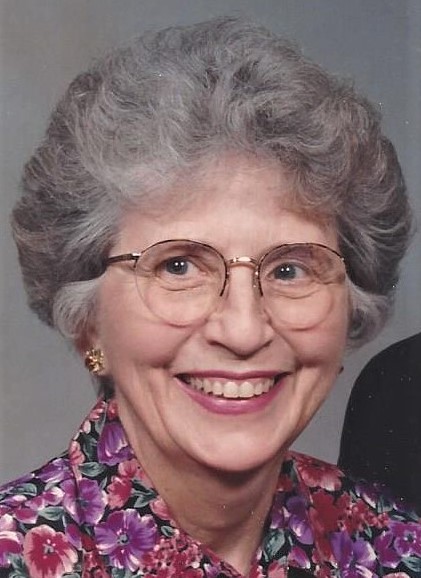 November 23, 1923 ~ March 12, 2021
Born in: Peoria, IL
Resided in: Decatur, GA
Lucille Middleton McPherson Skellie, 97, of Decatur, GA, passed away at home on March 12, 2021. She was preceded in death by Fred A. Skellie Jr, her beloved husband of 70 years. Born in Peoria, IL, Lucille lived in 23 cities before she was 19 because her father worked as a troubleshooter for Goodyear. She enjoyed childhood adventures with her older siblings Edwin and Lillian Anne. At age 14, she met Fred,17, at Long Beach High School on the Mississippi Gulf Coast, when a typical date was a nickel Coca-Cola and a stroll along the seawall by the beach. "I was a cheap date!" Lucille liked to announce. They were married at St. Peter's-by-the-Sea Episcopal Church in Gulfport, MS on March 29,1943. During WWII, while Fred served as a navigator aboard the destroyer USS Rodman, Lucille worked numerous temporary jobs. Whenever she learned that he was returning to a port, she would quit her job and travel to meet him. After the war, Fred qualified as a Certified Public Accountant and began working for Rich's Department Store in Atlanta, GA. Lucille and Fred settled in nearby Decatur, where they lived for the rest of their lives. A devoted couple, their loving marriage set a wonderful example for their three children. Lucille loved to laugh and nicknamed herself Lu "Silly." She leaves a legacy of kindness, humor, encouragement, and hospitality. She loved her family and friends, and had a knack for welcoming children into their home. When she played with her children or grandchildren, her joy and unexpected sense of fun kicked in. On rainy days, she might assign her children activity choices: yellow rain slickers for mud puddle splashing or roller skates for circling the basement. Whenever she and Fred played hide and seek with their granddaughters, or she baked an alligator birthday cake for her 4-year-old grandson, giggles of delight followed. Employing her renowned green thumb, Lucille created azalea-filled gardens and thriving indoor plants. She sewed fashionable clothes for her daughter's dolls, attended her sons' ballgames, played the piano for her children as they fell asleep (just as her Mama had), dabbled in water colors, and golfed with Fred. Additionally, she kept up with current events by reading both Atlanta newspapers cover to cover each day. Lucille and Fred loved dancing to big-band swing music, enjoying shrimp creole, most anything to do with boating, watching birds perch on the feeder near their kitchen window, and walking at least one mile nearly every day. They excelled at hosting large parties, bringing family and friends together. "She was my 'second mother,' and never seemed flustered," her daughter-in-law said. "She was a thoughtful and adaptable hostess," her son explained, "preparing vegetarian or heart-healthy meals, according to her guest list."
Besides entertaining in Decatur, Lucille and Fred created memories in their mountain home on Lake Blue Ridge. While Fred patiently helped guests learn how to ski, Lucille might explore Toccoa Cove in "Lu Lu" the canoe. Or, she might bake a cobbler from freshly picked blackberries, and top each serving with Fred's favorite ice cream. When Fred retired and opened his own tax consulting and estate planning business, Lucille worked with him preparing tax returns so they could travel the world during the off season. They also enjoyed road trips across the United States and decades of family reunions on the Gulf Coast.
Lucille and Fred were longtime, active members of Druid Hills United Methodist Church, serving on numerous committees. Lucille volunteered for the American Red Cross, was a member of the Rhododendron Club, the Heaton Park Garden Club, and numerous bridge clubs. Lucille is survived by two sons, Bert Skellie (Karen), and Don Skellie (Elizabeth); a daughter, Nancy Gerhardt (Gary, deceased); 8 grandchildren and 9 great- grandchildren; generations of nieces, nephews, and cousins; and lifelong friend Carol Mitchell. Memorial contributions may be made to Neighborhood Church (includes former Druid Hills UMC) https://www.neighborhoodchurchatl.com/ or to the charity of your choice. Online condolences may be expressed at www.wagesandsons.com. The family thanks the extraordinary caregivers at King'sBridge Assisted Living Community and the exceptional medical team and staff at Longleaf Hospice.
Memories Timeline
Guestbook
Sign the Guestbook, Light a Candle